OperAvenir
OPERAVENIR – THEATER BASEL'S OPERA STUDIO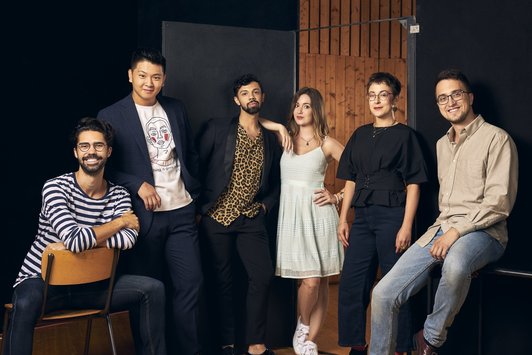 Since it was founded in 2006, the Theater Basel's Opera Studio has become a fixed institution with an international reputation. Young singers from all around the world apply for the highly sought-after places with OperAvenir. What is special about Theater Basel is that use is made of the resources of each of the different departments, opera, theatre and dance in order to advance the individual artistic development of each of the young ensemble in the best and broadest way possible.
Audiences are invited to take an active interest in the progress of the singers and to experience how their potential increases production by production and performance by performance. Members of OperAvenir are given the opportunity to gain stage experience working directly with famous conductors and directors on the most diverse opera productions. The Opera Studio's own productions and concerts regularly give audiences the chance to become more familiar with the young singers and be surprised by their ability to transform themselves.
The Director of OperAvenir is Stephen Delaney. The Australian pianist has a detailed interest in all areas of the performing arts. He has been able to gather a wide range of experience as both an artist and teacher and will now be able to explore as many forms of performance as possible for Basel with OperAvenir.
Members of OperAvenir for the season 2019/2020 are Kali Hardwick (soprano), Bruno de Sá (soprano), Dmytro Kalmuchyn (baritone) und Paull-Anthony Keightley (bass).

Mezzosoprano Ena Pongrac and tenor Hyunjai Marco Lee will continue on as members of OperAvenir Plus.
---

DIRECTOR OPERAVENIR
Stephen Delaney
MASTERCLASS
Anne Sofie von Otter
VOCAL TUITION
Margreet Honig (Amsterdam), Claudia Visca (Wien), Sami Kustaloglu (Berlin)
BODY WORK
Armando Braswell (Basel)
DICTION
Dorothea Sidow (German - Basel)

ACTING WORKSHOPS
Carina Braunschmidt
---
BECOME AN OPERAVENIR PATRON!
Bank Julius Bär & Co. AG
BC: 8515 / Kontonummer 0305.7667.2120.001.01
IBAN: CH96 0851 5030 5766 7200 1
BIC: BAERCHZZ
We will be pleased to provide you with confirmation of your donation.
+41 (0) 61 295 14 38

OPERAVENIR IS SUPPORTED BY:
HEIVISCH, HIAG and Julius Bär