DONNERSTAG AUS LICHT
Opera in three acts, a greeting and a farewell for 15 musical performers, choir, orchestra and tapes. Music, libretto, dances, actions and gestures by Karlheinz Stockhausen
SWISS PREMIERE
Performed in German with English and German surtitles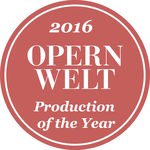 Acoustic visionary Karlheinz Stockhausen – one of the forefathers of New and Electronic Music – created nothing less than a musical creation myth in his monumental cycle of operas 'Licht', which celebrates the creation of the world out of the spirit of music theatre within the seven days of the week. The first of the seven operas, 'Donnerstag' ( Thursday), embarks on a spiritual journey through space and time: a musical big bang which is light, playful and touchingly poetic and which exerts a hypnotic power.
At the centre of the work is Michael, a modern Orpheus, whose task is to bring "the music of the heavens to man and the music of man to the heavens". On his path through life, which 'Donnerstag' presents at different stages, Michael visits many exotic locations both on earth and in space where he is repeatedly confronted with the dark power of Lucifer. However, Michael succeeds in passing the many tests he must set himself – not least with the help of his trumpet and the magical healing powers of music.
In 'Donnerstag' Stockhausen creates a spectacle of sound, which apparently breaks all the boundaries of music theatre and even attempts to challenge the physical structure of the theatre building: the performance extends beyond the auditorium into the foyer and then further, outside the theatre. Theater Basel's doors will therefore be at 4pm for 'Michael's Greeting' – the overture to a theatrical marathon which will only be interrupted for a supper break between acts two and three and is timed to end at sunset in the square in front of the theatre. Triumphantly received when first performed at La Scala Milan in 1981, this is the first time that Stockhausen's masterpiece can be seen in Switzerland – in a new production by the young American director Lydia Steier and conducted by the famous New Music specialist Titus Engel.
'Donnerstag aus Licht' represents the first in a series of seminal works of music theatre written after 1950.


Kindly supported by


Kindly supported by

---

Libretto «Donnerstag aus ‹Licht›»
With friendly permission: Stockhausen-Verlag, Kürten
www.stockhausen-verlag.com
Team
Musical Direction
Musical preparation and Sound direction
Direction
Stage Design
Costume Design
Video Designer
Video Mitarbeit
Lighting Design
Chorus Master
Dramaturgy
Ensemble
Michael - Tenor 1
Michael - Tenor 2
Michael - Trompete
Michael - Tänzerin
Eva - Sopran
Eva - Bassetthorn
Eva - Tänzerin
Luzifer - Bass
Luzifer - Posaune
Luzifer - Tänzer
Begleiterin Michaels im Examen
Clowneskes Schwalbenpaar Person 1 (Klarinette)
Clowneskes Schwalbenpaar Person 2 (Klarinette / Bassetthorn)
Zwei Knaben Person 1 (Sopransaxophon)
Zwei Knaben Person 2 (Sopransaxophon)
Studierende der Hochschule für Musik FHNW/Musik-Akademie Basel
Statisterie des Theater Basel
Programmheft
Preisstufe VII (von 30.– bis 118.–)