Food and Drink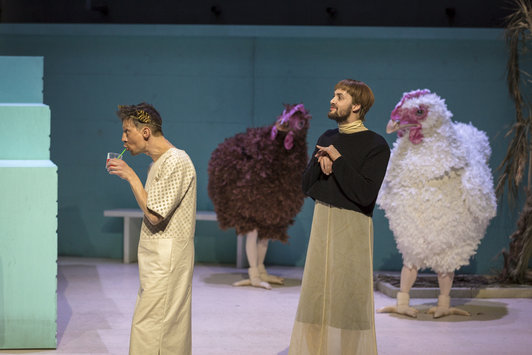 GROSSE BÜHNE & KLEINE BÜHNE FOYERS
In the foyer of the Grosse Bühne we offer seasonal delicacies made in our own kitchen from one hour before the performance. In order to avoid waiting, you can reserve your table before the performance and choose snacks and drinks from our comprehensive menu so that everything will be ready for you at the beginning of the interval.
Advance bookings and interval reservations can be made for both the Grosse and Kleine Bühne via:
Tel. +41 (0)61 295 15 51
E-Mail: gastronomie@theater-basel.ch
---

CANTEEN (THEATRE RESTAURANT)
You can hear the stage manager's calls, see ballet dancers and wonder: didn't he play the villain the last time we came to the opera? Our staff restaurant is open to the public.
Menu changes daily
Salad bar
Home-made ice tea
Opening hours
Monday to Saturday
8.30 – 23.30 h
Sunday
15 – 23.00 h

Elisabethenstr. 16, enter via stage door or outside staircase/terrace
---
CATERING (in conjunction with rentals)
Do you have special catering requirements for your event? We will be pleased to send you a mouth-watering selection of suggested aperitif and buffet options. Creative solutions will be found for your individual needs. Our catering team will be happy to advise you.
Tel. +41 (0)61 295 15 53
E-Mail: gastronomie@theater-basel.ch
---
SCHAUSPIELHAUS/ BESENSTIEL RESTAURANT
Besenstiel restaurant (with direct access to the Schauspielhaus)
Opening hours
Tuesday to Friday
11.30 – 14 h & 18 – 24 h
Saturday
18 – 24 h
Ideal for visits to the Schauspielhaus, as well as the Grosse Bühne and Kleine Bühne.
For reservations please contact the Besenstiel restaurant:
Tel. +41 (61) 273 97 00

The team from the Besenstiel restaurant serve snacks and drinks in the foyer of the Schauspielhaus from one hour before the performance and during intervals, as well as providing catering for first night parties, aperitifs and buffet events.