Experience Theater Basel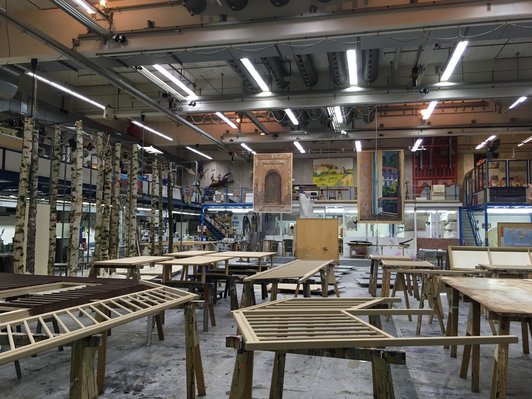 PUBLIC GUIDED TOURS
Behind the scenes at Theater Basel the clocks keep ticking day and night. People who come to watch a play often forget how complicated a theatre production of this kind really is. How are performances organized? How long do rehearsals for a production last? What happens in the wardrobe department? And what do the workshops look like where all the stage sets are not only designed, but also built?
In our guided tours of the theatre you can see the everyday life of the theatre aside from the performances up close. We take a look at our own workshops and reveal the secrets of stage machinery.
We offer a public guided tour of Theater Basel in English:
SAT 25. January 2020, 2:30 pm
Please note: Numbers are limited.
Please buy your tickets in advance at the Online-Ticketshop or from our staff directly at the box office.
THEATRE TOURS
For Groups
Registration for groups (20 people max. per guided tour)
Costs: per group CHF 200.–
Duration: 90 minutes
Contact:
anlass@theater-basel.ch

Guided tour for school classes
Theater Basel offers guided tours especially for children and young people with our educational specialists.
Duration: approx. 90 minutes
Cost: CHF 70.– per class
Contact:
schule@theater-basel.ch

A GREAT NIGHT OUT AT THEATER BASEL
Looking for the right atmosphere for a special occasion?
Whether you are attending a performance with business colleagues or friends or celebrating a birthday, we will be happy to help you plan an extra special occasion.
(We offer pre-show drinks, after-show meals, theatre tours etc. for between 10 and 80 people)
Contact:
anlass@theater-basel.ch
VENUE HIRE
Theater Basel hires out multifunctional spaces for event for between 30 and 1000 people.
Contact: Tina Keller, +41 (0) 61 295 14 406
GASTRONOMY
Theater Basel offers its guests a wide range of catering.
The theatre restaurant offers a seasonal menu of warm dishes and snacks before performances on the Grosse Bühne.
Advance orders and interval reservations for the Grosse Bühne and Kleine Bühne can be made via:
+41 (0) 61 295 15 53
gastronomie@theater-basel.ch