Theatre and Schools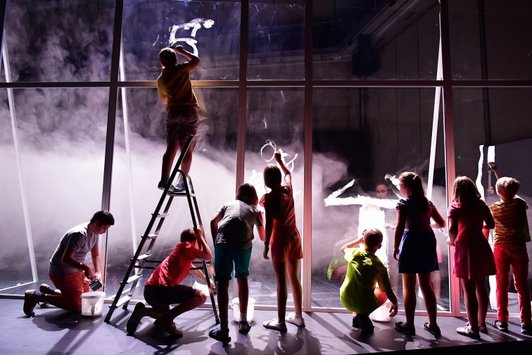 Theatre occupies a special place between the twin poles of reality and fiction. It's a place where personal identities and lifestyles can be examined on stage in a way that is both playful and real, where magic and transformation can happen and deep feelings and thoughts are released. With its three disciplines of opera, drama and ballet, the theatre is a place for everyone to experience. This is why we in the education department at Theater Basel aim to generate enthusiasm, open people's eyes and encourage tolerance, curiosity and creativity.
CONTACT
Martin Frank
m.frank@theater-basel.ch
+41 (0)61 295 14 76
Anja Adam
a.adam@theater-basel.ch
+41 (0)61 295 14 81
To book tickets
schule@theater-basel.ch
+41 (0)61 295 11 32
---

FURTHER INFORMATION
To make our work uncomplicated and approachable, educational activity at Theater Basel is divided into three areas:
Theatre and schools, daycare centres and kindergartens
Theatre and families
Young people's theatre (Junges Haus)
---
Theatre and schools, Daycare Centres and Kindergartens
When we come together creatively with the common goal of communicating knowledge, courage, critical thinking and how to cultivate your own taste, educators are our most important partners.
Straight-forward ticket bookings and support with other aspects of organisation *
Preparation of educational material on plays in the repertoire *
Teaching support before or after your visit to the theatre from our education staff *
A close relationship with your class in the form of a long-term partnership *
Accompanied visits to selected rehearsals or morning ballet training *
Guided backstage tours (can be tailored to specific themes and in various languages)
A cultural day in Basel for a single class or an entire year group with practical workshops on agreed topics, followed by seeing a performance
The educators' newsletter offers the latest regular and exclusive updates as part of our cultural outreach. Please subscribe to our mailing list! *
* These services are free of charge
---
AT YOUR DESKS, GET SET, GO & BETWEEN STOOLS

How does inspired and inspiring teaching work? How can I make my subject easier to understand so that even the more pragmatic of my students can enjoy participating in class? How do I keep the class together? And: how can I appear convincing while I'm doing this, approaching my class with a sense of humour and positive approach to inspire and motivate them?
Lots of ideas for teachers around the broad theme of «theatre methods for use in the classroom».
We present three regular series offering different models of advanced training for educators relating to the theme of «theatrical techniques for use in the classroom»:
ON YOUR DESKS, GET SET, GO!
How does inspired and inspiring teaching work? How can I keep the class together? How can I address my class with a positive approach, engage and motivate them? These courses deal with themes of drama in education, ensemble acting and presence.
LED BY Eva Gruner
BETWEEN TWO STOOLS
time is life time. Three Saturday courses examine the quality of collaboration between teachers and students: how to confront stressful situations with playful lightness, the opportunities offered by personal encounters, status games in everyday school life, alertness and relaxation as effective coping strategies.
LED BY Martin Frank
WATCH AND STEAL
One season. One production per month. Watch these together. And steal bits.
In a debrief, establish different views, process them and take them further.
LED BY Milena Meier
---
PRICES FOR SCHOOL CLASSES
Schoolchildren in one class (10 persons or more, regardless of nation or canton) pay the following prices per person per ticket:
Grosse Bühne CHF 20,–
Kleine Bühne / Schauspielhaus CHF 10,–
For every 10 students one teacher receives free entry.
Carina Winter
T +41 (0)61 295 11 32
schule@theater-basel.ch
---
SUBSCRIPTIONS FOR SCHOOLCHILDREN
THE SCHÜLERABO
Recommended for ages 12 and over
7 performances for CHF 120.-
(5x Grosse Bühne, 2x Schauspielhaus)
THE PERFORMANCES
«Andersens Erzählungen»
«The Notebook»
«Il barbiere di Siviglia»
«Cow»
«Count Öderland»
«Peter Grimes»

Bookings
Carina Winter
T +41 (0)61 295 11 32
schule@theater-basel.ch
---

SUBSCRIPTIONS FOR SCHOOLCHILDREN
TRANSFERABLE WAHLABO (OPTION SUBSCRIPTION)
7 visits to the theatre for CHF 22.- each (total price CHF 154.-)
Visit the theatre together with friends or 7x by yourself with this transferrable option subscription.
Valid for all seats (even the very best ones!).
Available from the online ticketshop or directly from the box office.